Reale
Castel di Sangro, Italy
52
Istanbul, Turkey
53
San Sebastian, Spain
54
São Paulo, Brazil
55
Oslo, Norway
56
Copenhagen, Denmark
57
Berlin, Germany
58
Mexico City, Mexico
59
Singapore
60
New Delhi, India
61
Senigallia, Italy
62
63
64
London, UK
65
Moscow, Russia
66
London, UK
67
Lima, Peru
68
Järpen, Sweden
69
Bangkok, Thailand
70
San Francisco, USA
71
Healdsburg, USA
72
Wolfsburg, Germany
73
São Paulo, Brazil
74
Rio de Janeiro, Brazil
75
Madrid, Spain
76
New York, USA
77
New York, USA
78
Gardone Riviera, Italy
79
Seoul, Korea
80
New York, USA
81
Denia, Spain
82
Barcelona, Spain
83
London, UK
84
Melbourne, Australia
85
Copenhagen, Denmark
86
Buenos Aires, Argentina
87
Lasarte-Oria, Spain
88
Hong Kong, China
89
Copenhagen, Denmark
90
Toronto, Canada
91
92
St Petersburg, Russia
93
Osaka, Japan
94
El Puerto de Santa María, Spain
95
Bangkok, Thailand
96
Hong Kong, China
97
Bergisch Gladbach, Germany
98
Valence, France
99
Antwerp, Belgium
100
Rio de Janeiro, Brazil
101
Birregurra, Australia
102
Hong Kong, China
103
Macao, China
104
St Petersburg, Russia
105
Copenhagen, Denmark
106
Paris, France
107
108
Paris, France
109
Guadalajara, Mexico
110
Istanbul, Turkey
111
Ghent, Belgium
112
London, UK
113
Hong Kong, China
114
Cape Town, South Africa
115
New York, USA
116
San Cassiano, Italy
117
Paris, France
118
Berlin, Germany
119
New York, USA
120
World's Best Bars 2020: The Full List of 100 Bars
I feel like most websites only focus on the top 50 when covering this list. I've always considered this one list of a 100 bars, rather than a list of 50, and "Next 50" as they designate it.
So if you want to see the full list, here it is:
1. Connaught Bar, London
2. Dante, New York
3. The Clumsies, Athens
4. Atlas, Singapore
5. Tayēr + Elementary, London
6. Kwānt, London
7. Florería Atlántico, Buenos Aires
8. Coa, Hong Kong
9. Jigger & Pony, Singapore
10. The SG Club, Tokyo
11. Maybe Sammy, Sydney
12. Attaboy, New York
13. The NoMad, New York
14. Manhattan, Singapore
15. The Old Man, Hong Kong
16. Katana Kitten, New York
17. Licorería Limantour, Mexico City
18. Native, Singapore
19. Paradisco, Barcelona
20. American Bar, London
21. Carnaval, Lima
22. Salmón Gurú, Madrid
23. Zuma, Dubai
24. Little Red Door, Paris
25. 1930, Milan
26. Two Schmucks, Barcelona
27. El Copitas, St. Petersburg
28. Cantina OK!, Sydney
29. Lyaness, London
30. Himkok, Oslo
31. Baba au Rhum, Athens
32. Panda & Sons, Edinburgh
33. Swift, London
34. Three Sheets, London
35. The Bamboo Bar, Bangkok
36. Tjoget, Stockholm
37. Buck & Breck, Berlin
38. Employees Only, New York
39. Bulletin Place, Sydney
40. Bar Benfiddich, Tokyo
41. Artesian, London
42. Sober Company, Shanghai
43. Indulge Experimental Bistro, Taipei
44. Bar Trigona, Kuala Lampur
45. Drink Kong, Rome
46. Room by Le Kief, Taipei
47. Alquimico, Cartagena
48. High Five, Tokyo
49. Charles H, Seoul
50. Presidente, Buenos Aires
51. Scout, London
52. Dr. Stravinsky, Barcelona
53. No Sleep Club, Singapore
54. Scarfes Bar, London
55. Danico, Paris
56. AHA Saloon, Taipei
57. Speak Low, Shanghai
58. The Old Man, Singapore
59. Hanky Panky, Mexico City
60. La Factoría, San Juan, Puerto Rico
61. The Pontiac, Hong Kong
62. Vesper, Bangkok
63. Donovan Bar, London
64. Tippling Club, Singapore
65. Schumann's, Munich
66. Siete Negronis, Santiago
67. Galaxy Bar, Dubai
68. Sub Astor, São Paulo
69. Sin & Tax, Johannesburg
70. Cafe La Trova, Miami
71. The Dead Rabbit, New York
72. Baltra Bar, Mexico City
73. The Everleigh, Melbourne
74. Pacific Cocktail Haven, San Francisco
75. Cause Effect Cocktail Kitchen, Cape Town
76. Rabbit Hole, Bangkok
77. Trick Dog, San Francisco
78. Happiness Forgets, London
79. Le Syndicat, Paris
80. Byrdi, Melbourne
81. Bar Mood Taipei, Taipei
82. Kumiko, Chicago
83. The Wise King, Hong Kong
84. Above Board, Melbourne
85. Tres Monos, Buenos Aires
86. 28 HongKong Street, Singapore
87. Freni e Frizioni, Rome
88. Art of Duplicity, Cape Town
89. Death & Co., New York
90. Officina Milano, Milan
91. Sidecar, New Delhi
92. Gibson, Singapore
93. Draft Land, Taipei
94. Amor y Amargo, New York
95. Gen Yamamoto, Tokyo
96. Electric Bing Sutt, Beirut
97. Lost & Found, Nicosia, Cyprus
98. Black Pearl, Melbourne
99. Bar Raval, Toronto
100. Bar Trench, Tokyo
Japan Full of Highlights and Disappointments
On top of Bar Ben Fiddich there are a few other notable things I've noticed about Tokyo.
First off, I can't believe Bar Orchard Ginza isn't on the list. Again, a wildly unique bar experience – with very very good drinks.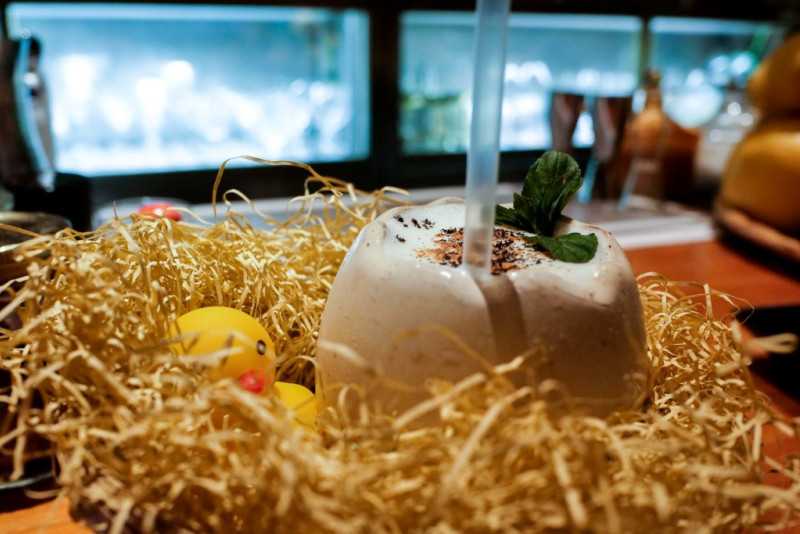 A drink at Bar Orchard Ginza.
Where else do you feel like you're walking into someone's living room, and the menu is a fruit basket on the bar? You pick an item, and they build you a drink around that.
Meanwhile, Bar High Five is still one the most overrated bars I've visited after two trips.
This is one of those where I feel like industry people get treated different than the average joe off the street (I know this, because I watched it happen on my last trip.)
But my last drinks simply were not good. I asked for a daiquiri variation, and we got two different versions. One felt like it lacked any sugar at all, and the other just felt watered down.
SG Club is another one that is in my personal top 5, so I'm thrilled to see it getting love here. Great concept, great vibe, and even better cocktails.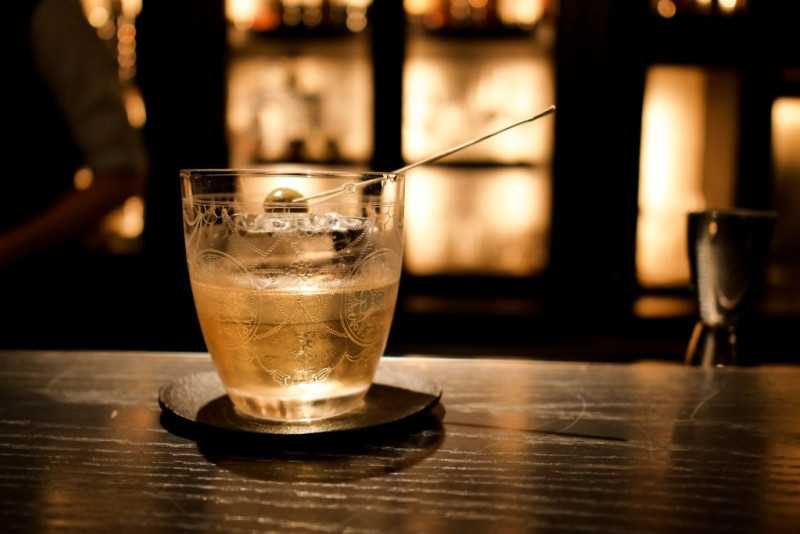 A cocktail at "Sip" at the SG Club in Tokyo, Japan.
Keeping with my clear love of unique experiences, Gen Yamamoto is back on the list which I think is great. Unlike any place I've been – and this is part of what I enjoy most about the Japanese Bar scene. I think they have the most unique cocktail bars in the world.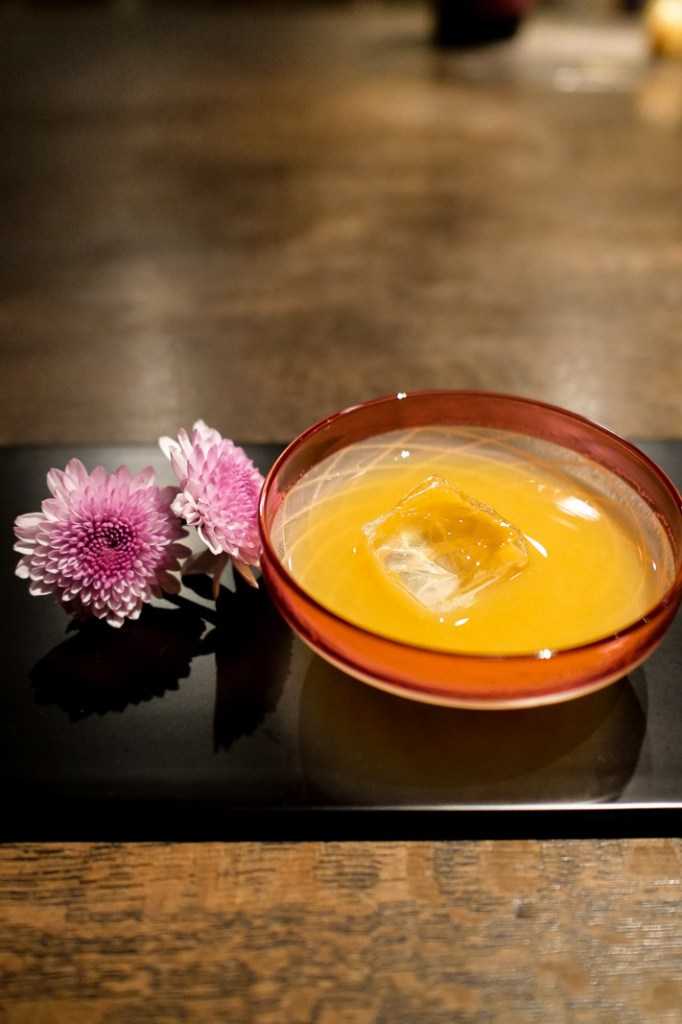 Gen Yamamoto featured an omakase cocktail flight of 6 drinks. Each only had two ingredients, one unique Japanese fruit, and one unique Japanese spirit.
And the biggest disappointment in Japan? Making the stupidest travel mistake I've ever made:
Connaught is a VERY Deserving Best Bar in the World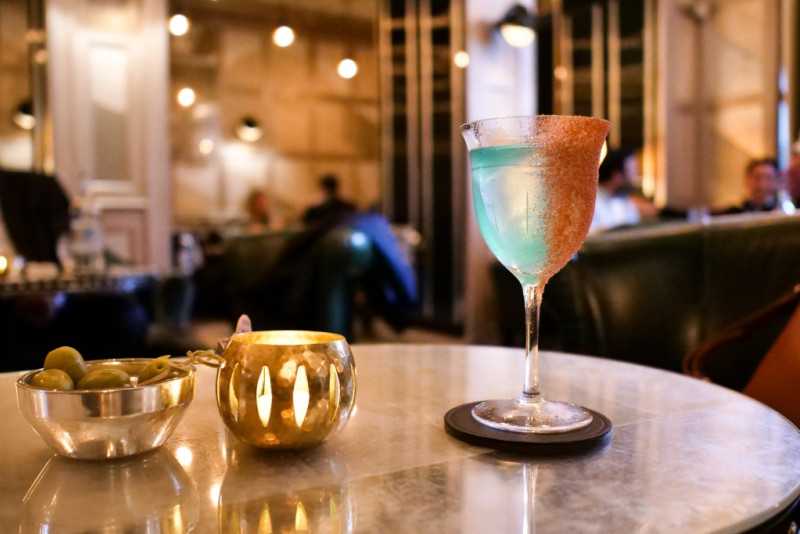 The Copper and Blue cocktail at Connaught featuring Barcardi Ocho, Plantation Pineapple, Martini Ambratto, coconut creme, and blue Sancerre wine.
In my review of the Connaught Bar I declared it the "fanciest place I've ever been."
And I still believe that to be true.
Obviously this won't be everyone's jam, and it's not necessarily the neighborhood joint I'd frequent multiple times a week.
But both times I've been to Connaught it has been the epitome of what a cocktail bar should be.
Absolutely perfectly made drinks, hospitality that is second to none, and more important than anything else: a truly memorable experience.
It switched places this year with Dante which was number one last year. I think Caffe Dante is excellent. The drinks are great, it's got a cool neighborhood vibe, and there's some nice history. I can see the argument for having it at the top of the list. But if you sent the average person to Connaught, and the average person to Dante, I think most would appreciate everything that goes into Connaught – even if it's not necessarily your kind of place.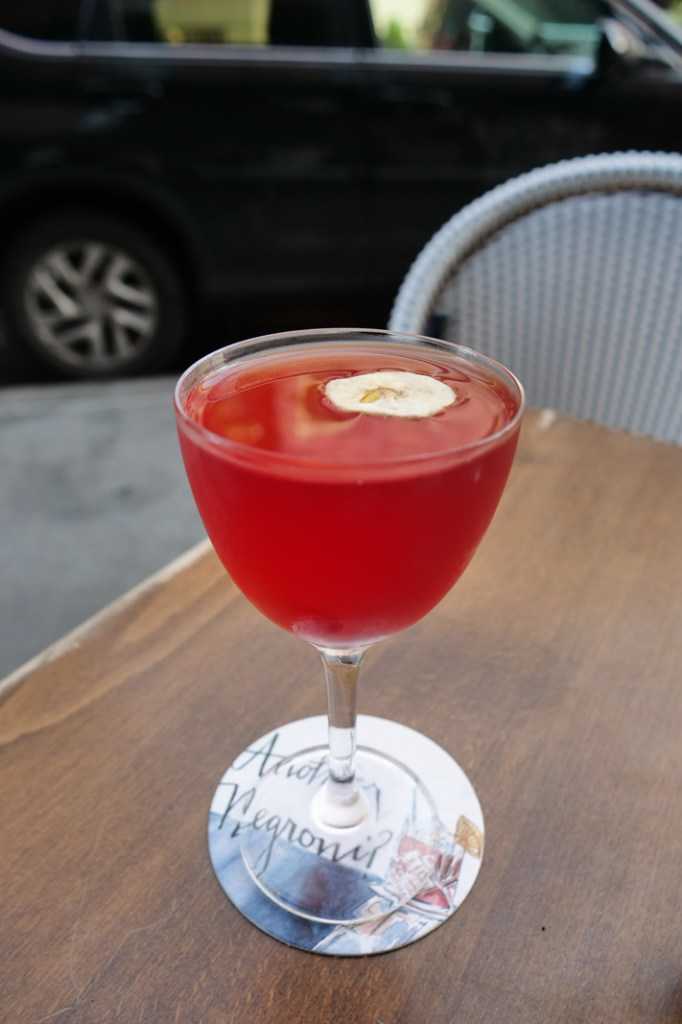 The Unexpected Negroni at Caffe Dante.
I've always preferred Connaught to it's other fancy neighbor the American Bar.
The American Bar is obviously steeped in history, but I found the drinks lacking given there obscene price point – even for London standards.
Everyone who is serious about cocktails should visit, but once you've done so, head back to Connaught for another Martini.
Related: 15 of the Best Hotel Bars in the World
Maido (Лима, Перу)
Признан лучшим рестораном Латинской Америки в 2017 и 2018 годах.
Стиль кухни – Nikkei
Cочетание японской и перуанской кухни фьюжн с акцентом на морепродукты. Это означает, что здесь царит свежая рыба и всевозможные соусы из цитрусовых. Также в меню можно встретить сочную треску, маринованную в мисо с хрустящими орехами, суши нигири, рис с морским ежом, и даже мороженое с чизкейком из тофу.
Здесь сочетаются вкус, дзен и натуральные яркие цвета продуктов Перу. Есть также отдельная стойка для суши и меню для деловых посетителей.
Шеф-повар: Мицухару Мика Цумура
Повар родом из Лимы. Изучал кулинарное искусство в США и Японии, где стремился узнать о своем культурном и кулинарном наследии. Он потратил много месяцев на мытье посуды, прежде чем научился «навыкам ножа» и, в конце концов, как готовить рис и суши.
Лучшее блюдо: «Короткое говяжье ребро»
Блюдо приготовляемое в течение 50 часов: мясо обжаривают и готовят два дня при температуре 68°С. Его подают с соусом из даси, мирина, саке, сахара, соевого соуса, грибов шиитаке, чеснока, айчи и бульона, а также с маринованными полосками имбиря под названием «бенишога».
World's Best Bars 2020 by City
Wondering which cities have the highest concentration of top bars? Here you go:
London – 12
New York – 8
Singapore – 8
Taipei – 5
Tokyo – 5
Hong Kong – 4
Melbourne – 4 (Worth noting, none in top 50)
Bangkok – 3
Barcelona – 3
Buenos Aires – 3
Mexico City – 3
Paris – 3
Sydney – 3
Athens – 2
Cape Town – 2
Dubai – 2
Milan – 2
Rome – 2
San Francisco – 2
Shanghai – 2
Beirut – 1
Berlin – 1
Cartagena – 1
Chicago – 1
Cyprus – 1
Edinburgh – 1
Johannesburg – 1
Kuala Lampur – 1
Lima – 1
Madrid – 1
Miami – 1
Munich – 1
New Delhi – 1
Oslo -1
San Juan – 1
Santiago – 1
São Paulo – 1
Seoul – 1
St. Petersburg – 1
Stockholm – 1
Toronto – 1
So there you have it. My more-than-slightly pretentious recap of the current state of the world's 50 (100) best bars list.
I'm disappointed not to have been able to make more progress in 2020, but hopeful that we can get back on track next year and hit some new cities for some new bar experiences.
Because after all, the whole point of this is to create memorable moments and stories you can tell in the future.
Read more about the bars in the quest with our bar reviews here. Or just want to make a good cocktail at home? We got you there too.
A Very London Heavy List
I feel like where NYC has been lacking, London and Singapore are picking up the torch and running with it.
12 top 100 bars, and 8 are in the top 50.
I was in London in May of last year and visited every bar on the 2018 list (and then some). And of the 12 on the 2020 list, 4 are new to me (Tayer + Elementary, Kwant, Donovan Bar, and Scarfes Bar).
It's nice to have something to look forward to, and I've always appreciated differences between the London Bars on this list.
This year is a reminder of how much the bar team as to do with its success.
I recognize that doing a recap like this is prone to errors. If I visited a bar in 2016, it could be a very different place now.
We saw this when the Artesian was consistently ranked among the very best bars in the world, before falling off the list when the entire team left. Only to find itself again in the past two years.
I was bummed to see Coupette was no longer on the list, and couldn't believe how that could be the case. Until seeing that Founder Chris Moore left last year.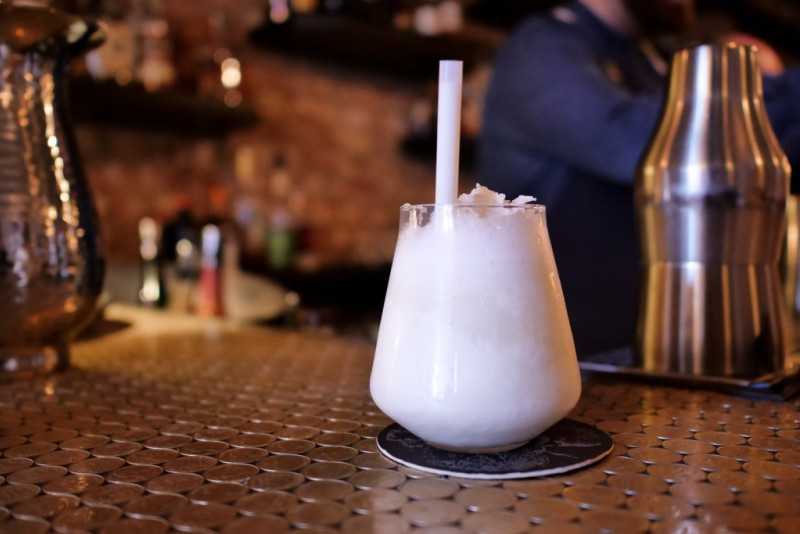 The famous Champagne Pina Colada at Coupette.
London has some phenomenal bars to be sure, but I'm wondering how much of these rankings do come from bias from the rating panel.
Bars I'm Surprised Are Not on the List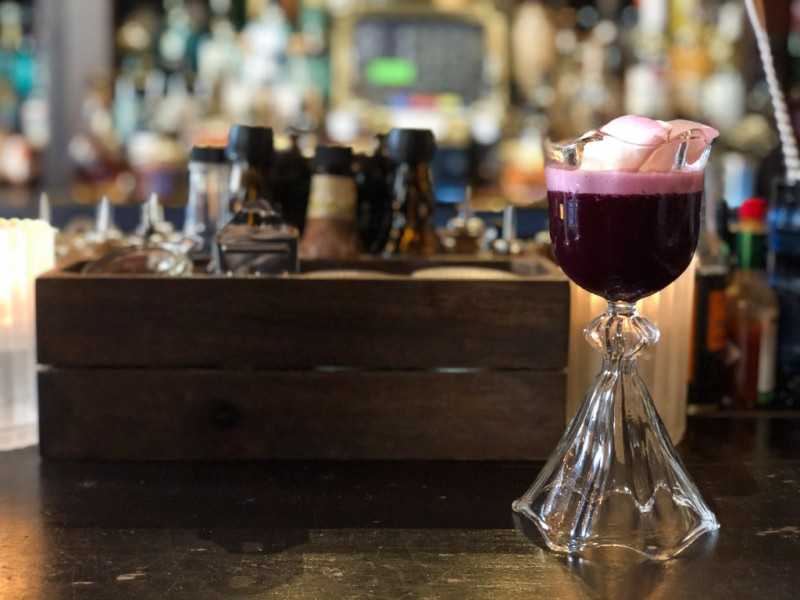 El Tango cocktail at Tales and Spirits in Amsterdam.
Take these with a grain of salt. As I mentioned above, I recognize management and bar teams change – and frankly, I'm not all that up with the latest world's best bar gossip – so there may be changes here that I'm not privy to.
But there are a handful of bars I was bummed to not see represented here.
Oriole (London) – The drinks I've had here were great, extremely inventive and memorable. It's often crowded, but in a more enjoyable way than say, Employees Only.
Tales and Spirits (Amsterdam) – One of the very best bar experiences I've ever had. Ended up there for 4 hours, had numerous delicious drinks, and I thought this truly epitomized what a top bar should be. Really surprised not to see this on the list.
Bar Orchard Ginza (Tokyo) – As I mentioned above, one of my favorite cocktail experiences anywhere.
Coupette (London) – Champagne Pina Colada, Apples, Board Room – all among the best cocktails I've ever had. The vibe left a little bit to be desired, but the drinks? Wow.
Candelaria (Paris) – Seems like many list mainstays tumbled off this year. I thought Candelaria was fantastic, but maybe not as ground breaking as some of the newer entries I haven't seen.
Junior (Singapore) – Never been on the list, but it should be. It topped my list of favorite Singapore bars. This may be in part just for the concept, which changes every six months. But while we were there? World class.
Anything in Portland – Hale Pele, Multnomah Whiskey Library, Deadshot. All in the same league as many of the bars on this list.
Operation Dagger (Singapore) – Operatio Dagger went about as far out there are you can go with drinks, while still appealing the mainstream. Highly worth visiting if in Singapore.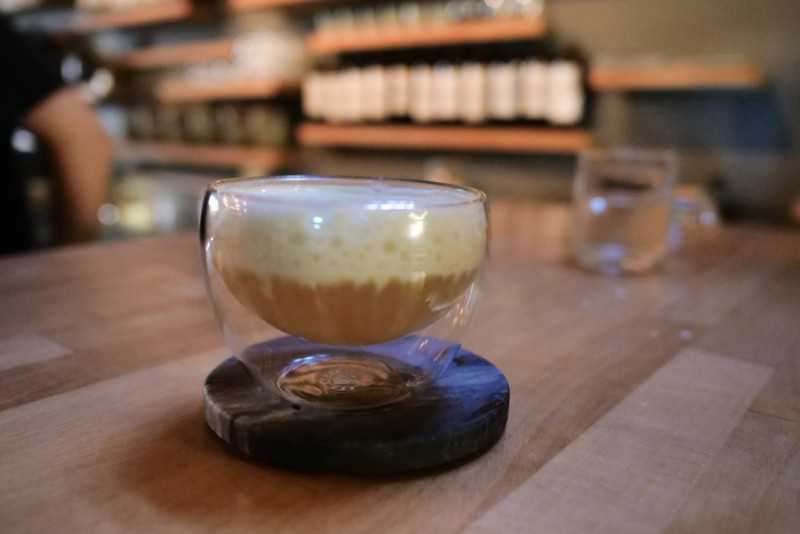 Hot & Cold is one of the signature drinks at Operation Dagger in Singapore.
Bars I'm Surprised Are on the List
Gibson (Singapore) – We had some good drinks here, but it may be that we were the only people there when we visited. I just didn't quite get what set it apart from any other good cocktail bar around the world.
Katana Kitten – This is a fun bar with a lot going on, and some interesting Japanese drinks. But after two visits, I didn't fall in love with any of the drinks, and don't full get what makes it a top 20 bar.
High Five (Tokyo) – I shared my thoughts on this above.
Schumann's (Munich) – With all of the negative publicity Charles Schumann got for his gender comments last year, I'm kind of surprised the panel hasn't just moved on from this place in favor of countless other world class bars. We had a good experience, but wasn't a personal favorite.
Other Specific Thoughts on About the 2020 World's Best Bars List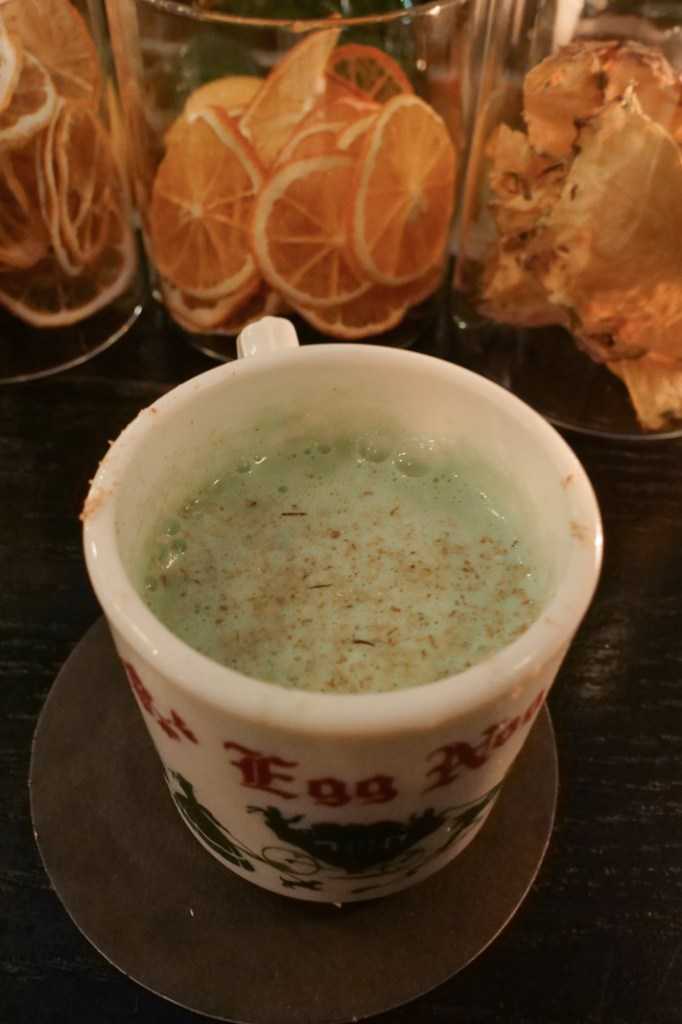 254 calories of pure Christmas-y heaven at Danico in Paris.
Danico – Nice to see this moving up the list. I liked Nico de Soto's Paris bar even more than his NYC bar Mace. Great drinks, and the best Aperol Spritz you'll ever have.
Atlas is definitely a top 5 bar – Atlas is 100% deserving to be a top bar. It has quality in drinks, environment and memorability in spades.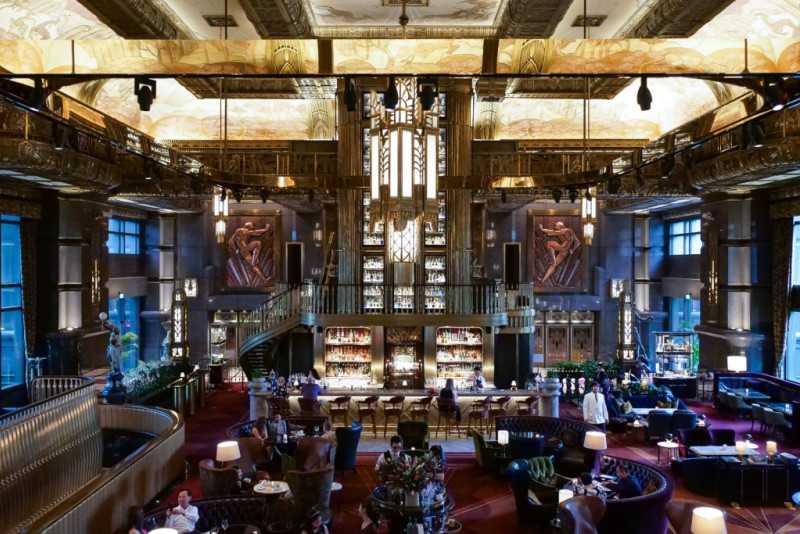 The world famous Atlas Bar in Singapore.
Native continues to feel high for me – I get they're doing great things with sustainability and creativity. But I didn't like it nearly as much as many other Singapore spots.
Happiness Forgets –  This was originally in my top 10, but not after my last visit there. Not surprised to see it sliding down the list.
Employees Only Feels High – I get it, there's a lot of history there. But there's also a lot of arguably better cocktail experiences to be had.
Shocked Speak Low continues to drop – I feel like this has to be because Shingo's other bars SG Club and Sober Company have been getting bumped up. But I continue to send people to Speak Low anytime I hear they are going to be in Shanghai. We went twice – and were only there for 4 days.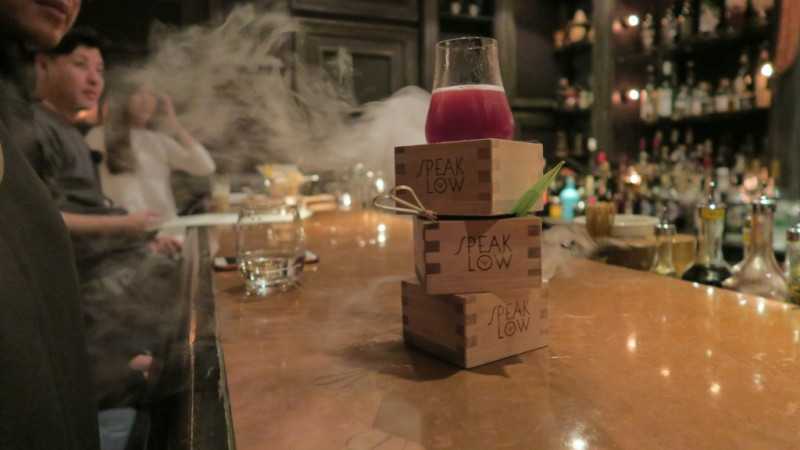 The Flirtibird at Speak Low in Shanghai, China.
Hong Kong Shake Up – Surprised to see both Quinary and Lobster Bar out, but the Pontiac remaining.
A cringe worthy blog from early on in the quest visiting Hong Kong:
City I'm Most Excited to Visit for Cocktails: Bangkok
I lived in Bangkok about a decade ago and at the time was broke and just starting my business. I visited Bamboo Bar one time, well before I ever got into cocktails.
I ordered a $10 Aviation, and sipped on it for 2 hours.
Now all these years later to see it on the list, is exciting.
But even more exciting is just how many other bars are on this list and previous entries. I'm excited to go back to a city I knew so well, and see it from a new perspective.
City that Surprised Me the Most: Taipei
When I think of cocktail meccas the ones that sand out are usually NYC, London, Singapore, and Tokyo.
Others like Hong Kong, Buenos Aires, and more are kind of next in line.
But I've never thought much, or knew much about Taipei.
So to see it have 5 of the world's best, was interesting and exciting to me. Hopefully I'll be able to visit sometime soon.
Bar I'm Most Excited to Visit: The Old Man Hong Kong
We tried to make it there on our last trip to Hong Kong right after it opened. Unfortunately we were unable to make the timing work, and I've regret it ever since. I've heard so many good things about this bar, and I'm excited to finally get to it, and to revisit Hong Kong once we're able.
Bars I'm Glad to See Out of the Top 100
Throughout our travels, there are definitely spots that make you say "how on earth did this make the list??"
Usually I've found 1/3 of the bars I visit I 100% agree with, 1/3 might not be my personal favorite but I can recognize why they're on the list, and a 1/3 I just don't get.
Here are a few that were on previous top 100 lists and aren't on the current list that I agree with.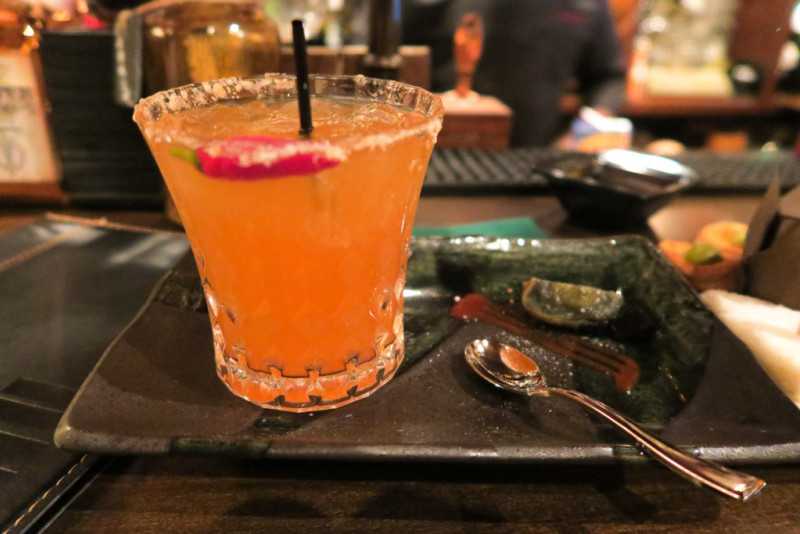 BBQ sauce, pepper, and the gnarliest egg you've ever seen at Nottingham Forest in Milan.
PotatoHead Beach Club (Bali) – I used to visit this place when I lived in Bali many years ago. It's great. But it's more beach club than cocktail bar. And with this specific list, it's about cocktails.
Nottingham Forest (Milan) – I don't know if I should say I'm glad to see this out because frankly it's one of the most memorable bars of our journey. SUCH cool and interactive drinks, at a super reasonable price. Only problem? Most of them weren't all that good…
Herbs and Rye (Las Vegas) – Bad drinks, bad vibe, bad location. Was really disappointed.
The Gibson (London) – The Gibson's hallmark is putting as many weird ingredients as possible in their cocktails. Unfortunately it just didn't work for me.
Bar BenFiddich Should Still Get More Love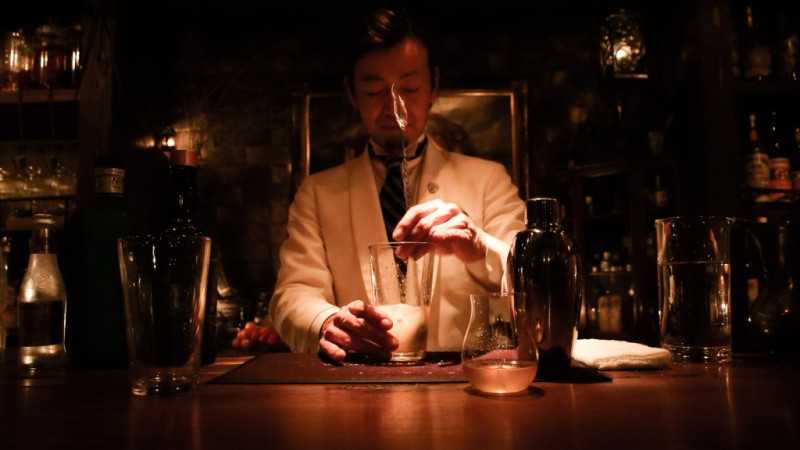 Bar Ben Fiddich in Tokyo – which is my personal favorite I've visited.
My favorite bar in the world is Bar Ben Fiddich in Tokyo. It's unlike any place I've been. The drinks are impeccable, the experience is wildly unique, and I continue to tell the stories of the "Vintage Negroni" or the "Fresh Campari Cocktail" on a regular basis.
Last year it fell into the "next 50" and this year it's back at #40.
That's great to see, but I don't see how this isn't a top 20 bar.
There should be more experiences like this in the bar world. Although that may be difficult, because there is only one Hiroyasu Kayama.
On a side note I recently came across a list of the Top 500 Bars in the World where Ben Fiddich was #8. That feels much more appropriate.
NYC No Longer the Cocktail Epicenter
I started this quest in 2014 when I first visited the Dead Rabbit after it was named the 2nd best bar in the world. I travel to NYC a couple times every year, and I always got excited because usually there were at least a couple new bars from the list to visit.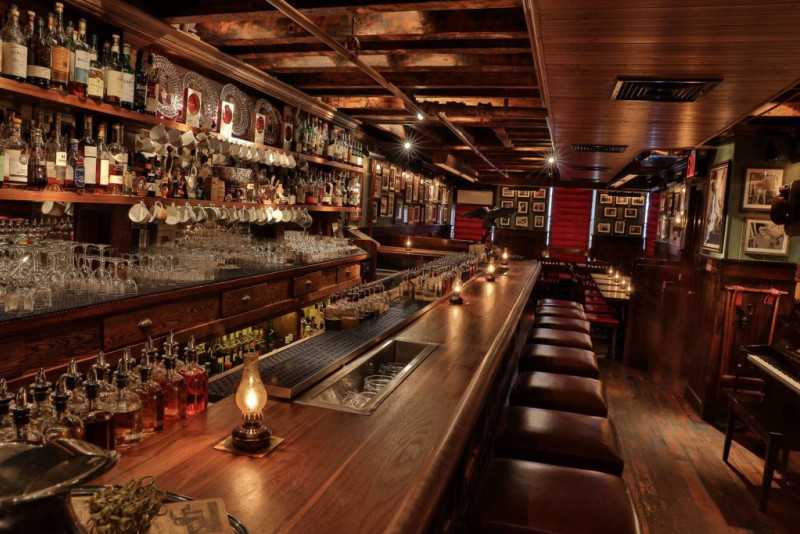 The cocktail parlour at the Dead Rabbit.
This year there are 8 bars from NYC, compared to other years where there was closer to a dozen.
And none of them are new.
Sure Death and Co. is listed as a "new entry" – but if there were ever a bar that should have been there all along that is it.
The Dead Rabbit has long been a favorite, but I'm not surprised to see it fall from 22 to 71. There's been some changes behind the bar, and frankly my last visit there in November of 2019 didn't live up to previous experiences.
I've always had good drinks at Employees Only, but it's so crowded that it's rarely an overly pleasant experience.
Attaboy is world class and worth the wait to get in. It's a masterclass in how cocktails don't have to be elaborate to be memorable. Just check out the book from its previous incarnation Milk and Honey, Regarding Cocktails, for a lesson in that.
After two visits to Katana Kitten, which remains in the Top 20 – I just don't totally see it. My drinks there were good, but nothing overly memorable.
I've also visited the NoMad Bar probably more times than any bar on this list. And it's great. But the last couple times there hasn't been much that has truly set it apart from a lot of the other bars. Nothing that has truly wow'd me like I'd get during my earlier visits. Although the list of recipes that have come out of that bar are second to none.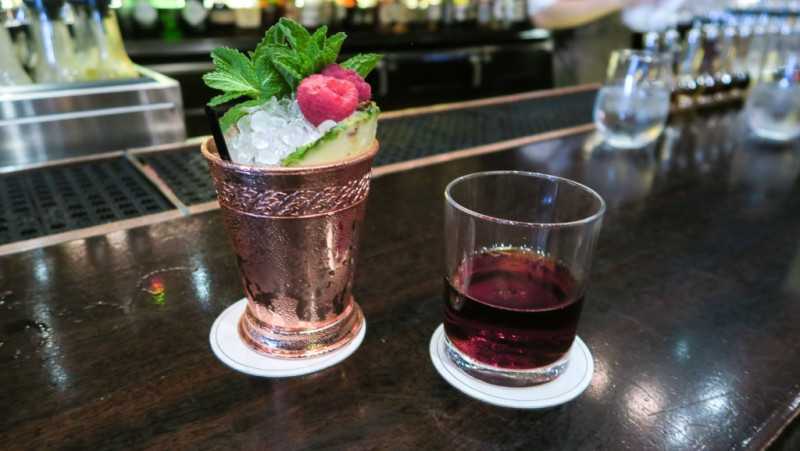 NYC is my favorite city in the world, but over the last few years it's becoming less inventive and interesting when it comes to the cocktail scene. Hoping that changes moving forward, but with COVD, it seems like an uphill battle.